Mar/04/2015 - 04:55:19 am
What Could I Do About Achilles Tendonitis ?
Overview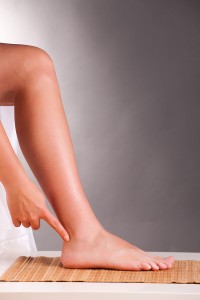 Achilles Tendonitis or achilles tendinopathy which is probably a more accurate term is an overuse injury causing pain, inflammation and or degeneration of the thick achilles tendon at the back of the ankle. The term achilles tendinopathy is probably a better term to describe the range of conditions that can cause achilles tendon pain. Achilles tendonitis can be either acute or chronic. Acute achilles tendonitis is usually more painful and of recent onset. Chronic achilles tendonitis will have come on gradually and over weeks, not necessarily preventing activity.
Causes
The Achilles tendon is a strong band of connective tissue that attaches the calf muscle to the heel bone. When the muscle contracts, the tendon transmits the power of this contraction to the heel, producing movement. The Achilles tendon moves through a protective sheath and is made up of thousands of tiny fibres. It is thought that Achilles tendonitis develops when overuse of the tendon causes the tiny fibres that make up the tendon to tear. This causes inflammation, pain and swelling. As the tendon swells it can begin to rub against the sheath surrounding it, irritating the sheath and causing it too to become inflamed and swollen. It has a poor blood supply, which can make it susceptible to injury and can make recovery from injury slow. Factors that can lead to the development of Achilles tendonitis include, tight or weak calf muscles, rapidly increasing the amount or intensity of exercise. Hill climbing or stair climbing exercises. Changes in footwear, particularly changing from wearing high-heeled shoes to wearing flat shoes. Wearing inadequate or inappropriate shoes for the sporting activity being undertaken. Not adequately warming up and stretching prior to exercise. A sudden sharp movement that causes the calf muscles to contract and the stress on the Achilles tendon to be increased. This can cause the tendon fibres to tear.
Symptoms
People with Achilles tendinitis may experience pain during and after exercising. Running and jumping activities become painful and difficult. Symptoms include stiffness and pain in the back of the ankle when pushing off the ball of the foot. For patients with chronic tendinitis (longer than six weeks), x-rays may reveal calcification (hardening of the tissue) in the tendon. Chronic tendinitis can result in a breakdown of the tendon, or tendinosis, which weakens the tendon and may cause a rupture.
Diagnosis
A thorough subjective and objective examination from a physiotherapist is usually sufficient to diagnose an Achilles injury such as Achilles tendonitis. Occasionally, further investigations such as an Ultrasound, X-ray or MRI scan may be required to assist with diagnosis and assess the severity of the condition.
Nonsurgical Treatment
Achilles tendinitis can typically be treated at home by following the R.I.C.E. treatment method. Rest. Rest the tendon by avoiding activities that irritate the tendon or increase swelling. However, this does not mean you should be completely inactive for long periods of time, as this can cause stiffness in your joints. It?s still important to stretch in order to maintain strength and flexibility and partake in activities that don?t put direct pressure on the tendon, such as bicycling. Ice. Apply ice to the affected area for 20-minutes at a time, every couple hours, as needed, to reduce swelling and pain. Compression. Use compression bandages to help reduce swelling. Elevation. Elevate your ankle above the level of your heart to help reduce swelling. It is particularly important to do this at night while you sleep. Simply place a pillow or two under your ankle to keep it elevated. Once the tendon has healed, be sure to gradually return to more strenuous activities. If flattened arches contributed to the injury, wear shoes with appropriate support or inserts to prevent the condition from progressing or recurring. If these non-surgical treatments have not been able to provide relief of symptoms after several months, surgery may be performed to remove inflamed tissue. However, this is not usually recommended unless all other options have been exhausted. Consult your doctor for more information about surgical treatment options.
Surgical Treatment
Around 1 in 4 people who have persisting pain due to Achilles tendinopathy has surgery to treat the condition. Most people have a good result from surgery and their pain is relieved. Surgery involves either of the following, removing nodules or adhesions (parts of the fibres of the tendon that have stuck together) that have developed within the damaged tendon. Making a lengthways cut in the tendon to help to stimulate and encourage tendon healing. Complications from surgery are not common but, if they do occur, can include problems with wound healing.
Prevention
Stay in good shape year-round and try to keep your muscles as strong as they can be. Strong, flexible muscles work more efficiently and put less stress on your tendon. Increase the intensity and length of your exercise sessions gradually. This is especially important if you've been inactive for a while or you're new to a sport. Always warm up before you go for a run or play a sport. If your muscles are tight, your Achilles tendons have to work harder to compensate. Stretch it out. Stretch your legs, especially your calves, hamstrings, quadriceps, and thigh muscles - these muscles help stabilize your knee while running. Get shoes that fit properly and are designed for your sport. If you're a jogger, go to a running specialty store and have a trained professional help you select shoes that match your foot type and offer plenty of support. Replace your shoes before they become worn out. Try to run on softer surfaces like grass, dirt trails, or synthetic tracks. Hard surfaces like concrete or asphalt can put extra pressure on the joints. Also avoid running up or down hills as much as possible. Vary your exercise routine. Work different muscle groups to keep yourself in good overall shape and keep individual muscles from getting overused. If you notice any symptoms of Achilles tendonitis, stop running or doing activities that put stress on your feet. Wait until all the pain is gone or you have been cleared to start participating again by a doctor.